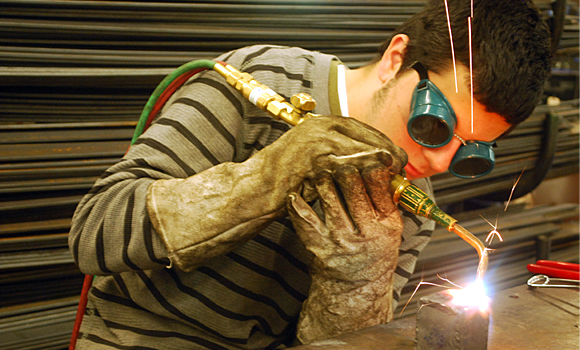 Discover the composition of metals as you practice how to join and cut different metals. Work from blueprints to layout, develop, fabricate, and form metals utilizing the Oxyacetylene Flame Cutting, Gas Welding, Electric Arc Welding, Aircomatic (MIG), Heliarc (TIG), and Plasma Arc Welding Processes.
Work Environment
Course Outline
Student Supplies
The welder may work indoors or outdoors depending on the type of job being performed. Extreme heat is used in the welding process and protective goggles, masks, gloves, shoes and coveralls must be worn. Very strict safety rules must be followed.
Shop and Field Safety Procedures
Basic Electricity/Fundamentals of Blueprint Reading
Thermodynamics/Layout and Development
Properties, Identification, and Use of Metals
Welding Processes and Techniques including Production and Maintenance Welding
Inspection and Testing of Weldments
Basic Metallurgy
Special Welding Techniques
Preparation for Welder's Certification Exam in 3G, 4G and 6G Pipe
1. High top boots, long pants, long sleeved shirts, welding hat or baseball cap, welding gloves
2. Welding Equipment: welding hood, hammers (chipping, ball peen), wire brush, striker
3. Tools: Screwdrivers, tool box, tape ruler, adjustable square, pliers, wrench, scribe, vise grip

CTE Endorsement
Students must successfully meet the academic and attendance criteria for a two-year Wilson Tech Certificate of Completion, be High School diploma eligible, and pass the following national certification exam: National Occupational Competency Testing Exam (NOCTI) – Welding Exam.
About the instructor

Gregory Testa received his certification to teach career and technical education from the NY Institute of Technology. He has been working in Tech's welding program since 2011. He possesses welding certifications in 3G Vertical Up, 4G Overhead and 6G Pipe. He is a member of the American Welding Society and owner of AAA Metal & Design.