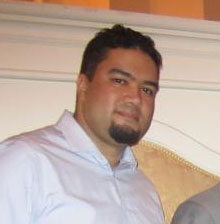 Find more photos, easier navigation, and great content on your cellphone, tablet, laptop, or desktop on the re-designed website of Wilson Tech thanks to a 1998 Tech graduate!
After BOCES evaluated several bid proposals, the website re-design project was awarded to Maxburst, an award-winning website design and digital marketing company in Farmingdale. During the initial design planning, it was clear that the Maxburst team had a firm grasp of the students who attend Wilson Tech and how to make the website appealing to them. No wonder! Donny Escolastico, Maxburst's lead art director and a partner in the business, completed Wilson Tech's computer electronics course.
"A friend recommended Tech and those two years were the best years of my high school. I liked meeting students from different schools," remembered the West Babylon native. After Tech, Donny attended Nassau Community College and then earned his Bachelor's of Fine Arts from Briarcliffe College.