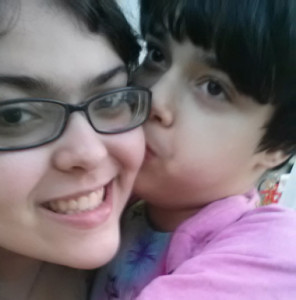 A Wilson Tech student's loving tribute to her younger sister won first place in the documentary category and Overall Outstanding Film award this spring at the 12th annual Film Festival sponsored by Locust Valley High School. Amanda Gordon, a Lindenhurst senior in Wilson Tech's Digital Film/Video Production class, captured top honors for the second year in a row with "Lovin Lauren," a documentary about the life of Lauren Gordon, her younger sister.
"I made the documentary to show that there is more to children than their diseases," noted Amanda. Her sister was initially diagnosed with "Infantile Spasms" or brain seizures and then later diagnosed with Low Functioning Autism. Lauren is a 14-year old student at the James E. Allen Jr./Sr. High School in Melville.
After judging more than 100 entries from high school students across Long Island, Sandy Kenyon, entertainment reporter and movie critic for Channel 7 Eyewitness News, publicly lauded her documentary. He later tweeted to Amanda "Everything I said about your film is true. It was the grand prize winner by a WIDE margin: meaning, no other film came close!"
"Amanda is a storyteller at heart. She is a great student with a really good work ethic," added Steven Stankowski, Tech's instructor for Digital Film/Video Production. Last year Amanda won first place in the Music Video category and Overall Outstanding Film for her "Story of My Life."
Debra Markowitz, the Nassau County Film Commissioner and VP of the Long Island International Film Expo, presented Amanda's awards and announced that this year's documentary will automatically be entered in the Long Island International Film Expo which runs July 13 – 21.
Three other Tech entries were named finalists. "The competition was very stiff," said Stankowski. "Placing in the top five was tremendous given that there were 50-100 entries in each category."
Finalists were:
Commercial: "Tostitos" by Juan Carlos Flores, Kyle Tilden, Jaylen Hunter, Samuel Morales, James Wirths and Savanna Morris
Drama: "Forgotten" by Kai Macci and Brett Eidelkind
Movie Trailer: "Only Time Will Tell" by Anthony Sabino, B Dan Bautista and Kyle Schwartz