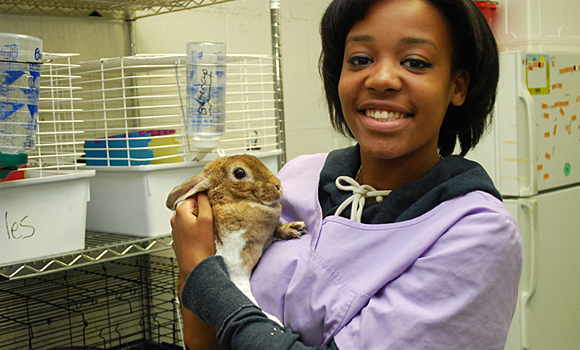 Students will have many opportunities to handle and care for animals as they study veterinary assisting, and laboratory procedures for animals. You'll study anatomy as you care for the animals that live in your classroom!
Work Environment
Course Outline
Student Supplies
Veterinary Medical Assistants have a wide range of employment opportunities in animal clinics, veterinarian's offices, pet stores, laboratories, pet grooming shops, animal shelters, zoos, and preserves.
Individual Animal Care & Handling Bio-profiles
Basics in Grooming
Office, Hospital & Kennel Maintenance Procedures
Small Animal Nursing & Pharmacology
Client Communication/Medical Record Keeping
Exam and Treatment Room Procedures
Surgical Preparation and Assisting
Laboratory Procedures
Animal Disease & Health Maintenance
Diagnostic Imaging Assisting
Helpful Preparatory Courses
Biology with lab
Chemistry with lab
First-Year Students
1. Scrub top / Scrub pants or long pants
2. Non-slip closed toe shoes/ sneakers
3. Current Tetanus vaccination is recommended
---
CTE Endorsement
Students must successfully meet the academic and attendance criteria for a two-year Wilson Tech Certificate of Completion, be High School diploma eligible, and pass the following national certification exam: National Occupational Competency Institute (NOCTI) – Veterinary Assistant PA.
About the instructor

Kathy Keymel, a NYS licensed veterinary technician, holds an associate's degree in veterinary science, bachelor's degree in biological science, and a master's degree in curriculum and instruction. She worked in the field for more than 20 years at various animal hospitals before coming to Wilson Tech. Her classroom is a mini habitat where students have the opportunity to care for a variety of small and large animals while preparing to enter a field in animal care.