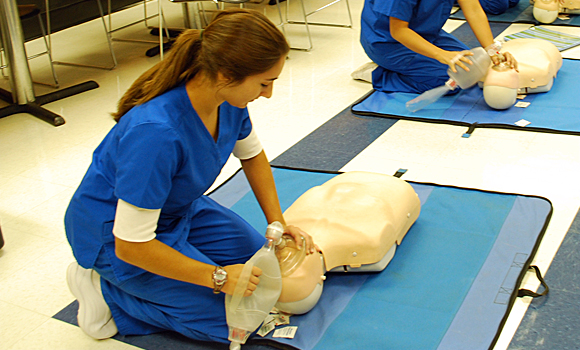 Take the fast track up the career ladder in health care! Wilson Tech seniors who took the Nurse Assisting program and either passed the Certified Nurse Aide (CNA) examination during their junior year or are certificate-eligible (that is, you passed the Nurse Assisting class, fulfilled your clinic hours, and met all attendance requirement) are eligible to take this class. Those seniors who are Certified Nurse Assistants and then complete the Professional Health Careers program, qualify to take the Patient Care Technician Certification examination. Successful graduates of this program are eligible for Advanced Standing in the School of Practical Nursing and the School of Surgical Technology at Western Suffolk BOCES provided they fulfill all other admission criteria for those programs.
---
Prerequisite
Students must successfully complete Nurse Assisting in junior year.
Work Environment
Course Outline
Student Supplies
Health professionals work in a variety of health care facilities. Depending on the position, they can work any shift, including weekends and holidays.

Fundamentals of Health Care
Personal/Vocational Relationships
Study Skills
Therapeutic Communication
Anatomy & Physiology
Basic Computer Technology
Human Body–Health & Disease
Mental Health
Clinical Practice–Offsite (students must meet criteria prior to clinical placement)
Helpful Preparatory Courses
Biology
Chemistry
First-Year Students
1. V-neck top
2. Draw string pants
3. Watch with second hand
4. Physical Examination
Second-Year Students –
After being approved for clinic, purchase:
1. Zipper top
2. Draw string pants
3. White rubber soled leather shoes or sneakers
4. White crew socks or stockings
5. White crew neck tee shirt
6. Black stethoscope
7. Name tag
* Check with teacher for scrubs/uniform specifications and supplies.
Certification Requirements
Those who complete the entire program who are Certified Nurse Assistants will qualify to take the NCCT Certification exam for Patient Care Technician.
---
CTE Endorsement
Students must successfully meet the academic and attendance criteria for a two-year Wilson Tech Certificate of Completion, be High School diploma eligible, and pass the following national certification exam: NYS Nurse Aide Competency Exam, Nurse Assisting Certification Exam (CNA)
About the instructor

Kathie Guarino is a registered nurse who worked on medical surgical units, in ICU and in geriatric facilities. She also worked in home care both as a nurse and as a supervisor of nursing assistants. She has taught adults and high school students in nurse assisting and professional health careers at both Nassau and Western Suffolk BOCES. She holds an associate's degree in nursing from Nassau Community College and a bachelor's degree in occupational education from NY Institute of Technology. She is also a member of SkillsUSA and coordinates the regional nurse assisting competition.