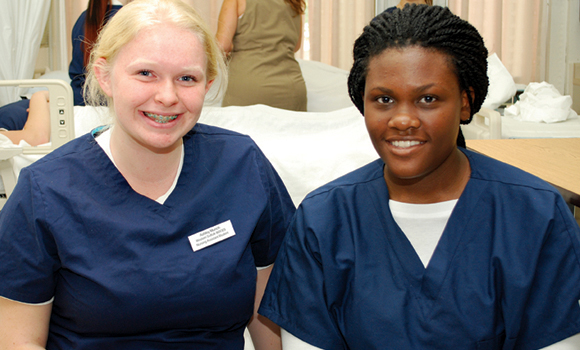 Care for patients and become eligible to be a Certified Nurse Assistant (CNA). Work in the field or continue your education as a practical nurse, registered nurse or even as a physician. In fact, those who successfully pass Nurse Assisting can continue in the second year in Tech's Professional Health Careers program. If eligible, you can take the national certification exam for Patient Care Technician before you finish high school!
Licensing Requirements
All students successfully completing this program will be eligible for the NYS DOH Nurse Aide Certification Examination provided they meet the clinical and classroom attendance requirements.
Work Environment
Course Outline
Student Supplies
Nurse Assistants engage in bedside nursing care under the direction of a LPN or registered nurse. Job duties include assisting the Practical or Registered Nurse, in caring for patients, including bathing, dressing, feeding, transporting, bed making and personal needs. The Nurse Assistant may work in a hospital, a nursing home, or provide care for patients in their home. The Nurse Assistant has the opportunity to work any shift including weekends.
Introduction to Health Careers
Interpersonal Relationships
Anatomy and Physiology
Nutrition
Long-term Care
Medical Terminology
Supervised Off-site Clinical Experience (108 hrs)
Legal and Ethical Responsibility
First Aid
Diseases and Disorders
First-Year Students
1. V-neck top
2. Draw string pants
3. Watch with second hand
4. Physical examination
Second-Year Students – After being approved for clinic, purchase:
1. Zipper top
2. Draw string pants
3. Lab coat
4. White rubber soled leather shoes or sneakers
5. White crew socks or stockings
6. White crew neck tee shirt
7. Name tag
* Check with teacher for scrubs/uniform specifications and supplies.
CTE Endorsement
Students must successfully meet the academic and attendance criteria for a two-year Wilson Tech Certificate of Completion, be High School diploma eligible, and pass the following national certification exam: NYS Nurse Aide Competency Exam, Nurse Assisting Certification Exam (CNA), and successfully complete Professional Health Careers in their senior year.
About the instructor

Sharon Lane is a registered nurse who has taught both high school and adult students. She holds an associate's degree in nursing from Middlesex Community College. She has a bachelor's degree in nursing and another in Psychology from Framingham State College. She obtained her Master of Business Administration from Rivier College and successfully passed the National Administrator Board (NAB). After earning her master's degree, she worked as a licensed nursing home administrator in Massachusetts. She has 14 years of experience ranging from charge nurse, nursing supervisor, floor nurse to assistant director of nursing.

Lina Torelli is a registered nurse who spent nine years working in a city hospital in the critical care unit as a staff nurse and as a head nurse in coronary care, coronary step-down and the gastrointestinal suite .She has also worked in ambulatory care, as a triage nurse in a health center and as a supervisor in a local nursing home. She holds a bachelor's degree from St. Francis College. During the summer, she works as a school nurse in the special education division of Western Suffolk BOCES and has worked as a clinical instructor in the Western Suffolk BOCES nurse assisting and LPN programs for adults.

Terry Maratto is a Registered Nurse with a Bachelor of Science in Nursing from Stony Brook University. Her nursing experience has ranged from a Nurse Assistant and home care while in school, to Medical/Surgical, Intensive Care, Cardiac Care, Telemetry, Radiation Oncology, and Pediatrics. She has also been the manager of the Oncology Unit. She has taught adults and high school students in Nurse Assisting and Professional Health Careers at Western Suffolk BOCES. Ms. Maratto is also a member of Skills, USA and coordinates the Regional Nurse Assisting competition.