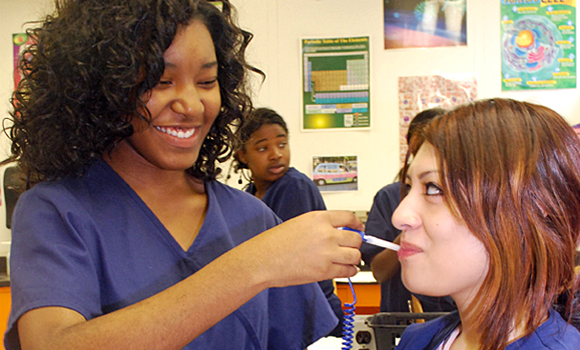 You'll be trained to conduct many of the medical tests doctors require to diagnose illnesses. Use highly technical equipment to answer medical questions.
Work Environment
Course Outline
Student Supplies
Laboratory tests play an important part in the detection, diagnosis, and treatment of many diseases. Medical laboratory workers, often called clinical laboratory workers, assist in the performance of tests under the direction of pathologists, medical technologists, and/or medical technicians. These tests are generally performed with a scientific team in modern surroundings on samples of blood, tissues, and body fluids to detect changes caused by various disease states. Laboratories are generally well lighted, clean, and present a pleasant atmosphere. Students will work with patients and, many times, follow their progress.
Orientation to the Medical Lab
Basic Anatomy and Physiology
Use/Care of Lab Equip.
Intro. to Genetics
Application of DNA Based Tests in Health
Basic First Aid
Blood Pressures/TPR
Electrocardiography
Infection Control
Microbiology
Urinalysis
Blood Banking, Hematology
Blood Chemistry
Phlebotomy
Standard Precautions
Study Skills
Telephone Comm.
Introduction to Parasitology
Resumé writing and job applications
Applied language and math skills
Interview Skills
Clinical Internship
Forensics
Specimen Processing
Helpful Preparatory Courses
Living Environment
Chemistry
First-Year Students
1. V-neck top
2. Draw string pants
3. Watch with second hand
Second-Year Students – 
After being approved for clinic, purchase:

1. Zipper top
2. Draw string pants
3. Lab coat
4. White crew neck tee shirt
5. White crew socks or stockings
6. White rubber soled leather shoes or sneakers
7. Black stethoscope
8. Name tag
9. Physical examination
*Check with teacher for scrubs/uniform specifications and supplies.
CTE Endorsement
Students must successfully meet the academic and attendance criteria for a two-year Wilson Tech Certificate of Completion, be High School diploma eligible, and pass the following national certification exam: National Center for Competency Testing Exam (NCCT) – Phlebotomy Technician and complete the clinical internship.
About the instructor

Holly Michels has 15 years of laboratory experience in both hospitals and clinics. In addition, she has taught living environment, chemistry, marine biology and forensic science. She holds a bachelor's degree in medical technology from NY Institute of Technology as well as a master's in education and special education from Touro College.