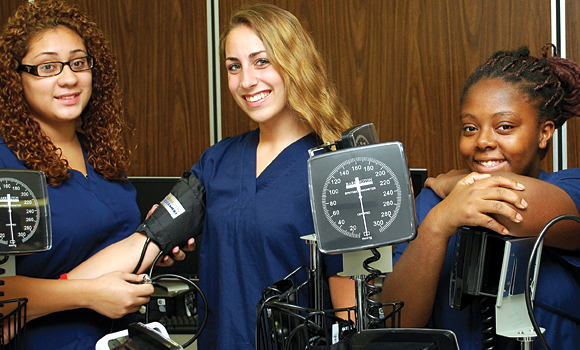 Get the opportunity to become an important member of the health care team and to prepare for work in physician offices and clinics. Emphasis on front desk reception, office skills, and assisting with examinations and treatment.
Work Environment
Course Outline
Student Supplies
The medical assistant is prepared for entry-level employment in a variety of occupations in the health care industry. Various job titles are: Medical Assistant, Medical Secretary, Medical Receptionist, Billing Clerk, Insurance Claims Processor and Medical Collections.
Communications
Medical Law and Ethics
Anatomy & Physiology
Phlebotomy/Venipuncture
First Aid
Laboratory Procedures
Pharmacology
Clinical Practices
Sterilization Techniques
Infection Control
Medical Terminology
Electrocardiography
Medical Specialties
Electronic Health Records
Medical Administrative Duties
Accounts Management
Office Management
Billing Procedures (including Electronic)
Vital Signs
Clinical Internship
Helpful Preparatory Courses
Biology
First-Year Students
1. V-neck top
2. Draw string pants
Second-Year Students –
After being approved for clinic, purchase:
1. Zipper top
2. Draw string pants
3. Lab coat
4. White rubber soled leather shoes or sneakers
5. White crew socks or stockings
6. White crew neck tee shirt
7. Watch with second hand
8. Black stethoscope
9. Name tag
10. Physical Examination
*Check with teacher for scrubs/uniform specifications and supplies.
---
CTE Endorsement
Students must successfully meet the academic and attendance criteria for a two-year Wilson Tech Certificate of Completion, be High School diploma eligible, and pass the following national certification exam: National Center for Competency Testing (NCCT) Medical Assisting exam and complete the clinical internship.
About the instructor

Crystal Gatto is a health instructor for Wilson Tech's secondary and adult programs. Her career branched out from advertising and communications to the medical field where she has been a practice administrator for more than 10 years. She is a NYS certified medical assisting teacher for grades 7-12 as well as a certified clinical and administrative medical assistant.

Terry Spencer has 18 years of experience performing clinical and administrative procedures in internal medicine, oncology, pediatric dermatology and gastroenterology. She has trained and supervised medical assistants and also run her own medical billing and transcription business. She holds a bachelor's in business economics from SUNY Oneonta and a master's in education from LIU-CW Post. She has completed a state-approved medical assisting program and is NYS certified in special education K-12 and medical assisting 7-12.