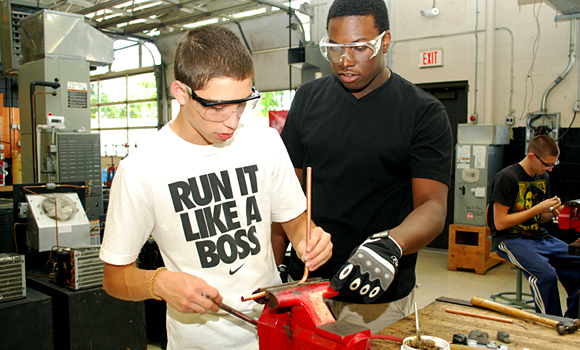 Repair the air conditioning, heating and ventilation systems found in homes and businesses. Review plumbing basics, including installing piping for kitchens and bathrooms. There will always be a need to help homeowners and businesses.
Work Environment
Course Outline
Student Supplies
People in this trade work both indoors and outdoors, independently and in groups. Initiative and independence are required to install, maintain and repair plumbing and environmental control equipment.
Basic Electrical Theory
Heating and Ventilation
Refrigeration and Air–Conditioning
Sheet Metal
OSHA
Troubleshooting/Diagnosis
System and Unit Repair
Clean Air Requirements
Plumbing
1. Long sleeved coverall or work shirt and pants/ jeans
2. Heavy, sturdy leather safety shoes
3. 6′ tape measure
CTE Endorsement
Students must successfully meet the academic and attendance criteria for a two-year Wilson Tech Certificate of Completion, be High School diploma eligible, and pass the following national certification exam: National Center for Construction and Education Research (NCCER) – HVAC Exam.
About the instructor

Elizabeth Cohen brings more than 25 years of experience to the classroom. She worked as a welder and installer for commercial buildings, residences, hospitals and supermarkets. Her work as a forewoman and journeywoman included welding, soldering, brazing, and threading piping.