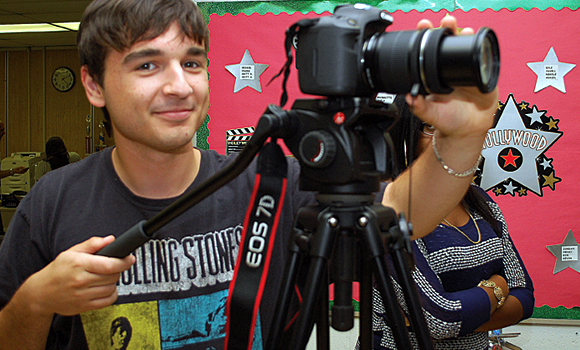 Fascinated by the glamour of the broadcast world? Experience what it's like to be behind and in front of the lights and video equipment. Prepare and edit scripts. Operate and repair transmission equipment, cameras, recorders and lights.
Work Environment
Course Outline
Student Supplies
Technicians may work in large city TV stations where jobs are specialized. In local stations, employees may handle several jobs simultaneously, working with the producer, director, announcer, art director, set director, makeup artist, graphic artist, wardrobe designer, music librarian, camera operator, film and tape editor, lighting director, floor director, sound-effects technician, researcher, property handler, and secretary.
Technicians also work closely with news directors, reporters, writers, researchers, on-air personalities, producers, and assignment editors as well as electricians, artists, carpenters and photographers.
Fundamentals of Television/Digital Film & Production
TV Equipment Use & Maintenance
Non Linear Editing
Audio Engineering
Script Writing
Set Design
Set Building/Dressing
Lighting
Film Documentary Development
Podcasting
Youth Leadership Activities
Career Opportunities
1. Minimum 16 gig flash drive, Compact Flash Card 8 gig or more, Lexar Professional CF Card (800X) UDMA7 is preferred
2. Wilson Tech t-shirt for location and field trips
---
CTE Endorsement
Students must successfully meet the academic and attendance criteria for a two-year Wilson Tech Certificate of Completion, be High School diploma eligible, and pass the following national certification exam: SkillsUSA Workforce Ready System – Television Video Production.
About the instructor

Steve Stankowski is an award winning video editor with more than 25 years' experience in Manhattan's premierpost production studios. Hisspecialty is visual effects editing including national television commercials for Diet Coke, opening sequences for World Championship Tennis and CBS Sports; Corporate presentations for Armstrong World Industries, Pfizer, Merck, and Johnson and Johnson; music videos for CBS Records, Sony Music, Heartworks International, and The Dovetail Group and worldwide English language programs for Berlitz Publishing, Yale University Press,Prentice Hall and Macmillan Publishing. He has written, directed, produced and edited hundreds of videos for many Fortune 500 companies. In addition, he has designed and implementedtraining for video editors in Five Towns College, NY Institute of Technology and Long Island Jewish Hospital.