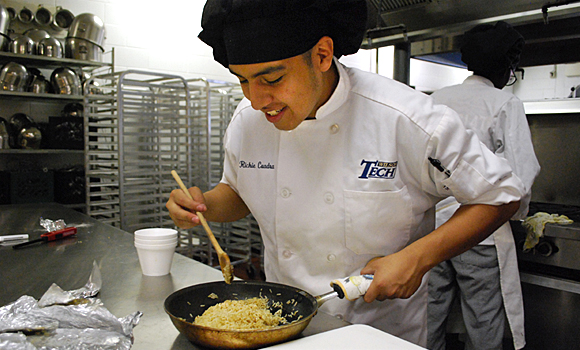 Put some steam into your plans for the future. Prepare and serve food as it's done in the finest restaurants. Whether you dream of your own deli, gourmet restaurant or bistro, or you want a foundation to become a fine chef, this program will help prepare you for the excitement of commercial food preparation.
Work Environment
Course Outline
Student Supplies
Cooks/Chefs must be able to stand for long hours. Peaks of high production are demanded both daily and seasonally, depending on job location.
Kitchen Safety and Sanitation
Stocks, Soups, Sauces
Cooking Methodology
Baking & Pastry Arts
Meat & Poultry ID
Fish & Shellfish ID
Dining Room Service
Pasta, Grains and Starch Cooking
Salad, Appetizer and
Hors d'oeurves Preparation
Regional American Cuisine
International Cuisine
Food Plate Presentation & Styling
Breakfast Cooking
Garde Manager
Nutritional Cooking
Helpful Preparatory Courses
Biology
1. White chef coat
2. Bib type apron
1. Checkered pants
2. Chef Hat
1. Non-slip leather protective footwear
2. Uniform bag
---
CTE Endorsement
Students must successfully meet the academic and attendance criteria for a two-year Wilson Tech Certificate of Completion, be High School diploma eligible, and pass a national certification exam: 2015-16 exam to be determined.
About the instructor

Nancy Kombert is a certified executive chef who has owned and operated a restaurant on the south shore of Long Island. She earned an associate's degree from the Culinary Institute of America and has more than 20 years' experience in the culinary field. She is also an active member of the American Culinary Federation.

Robert Scavo has been selected twice for Who's Who in America's Teachers. He has worked as a chef for the Ritz Carlton Hotels and the Hyatt Corporation. He holds an associate's degree from Johnson & Wales University and certification from SUNY Oswego. He is a member of the Retail Bakers Associations and the National Restaurant Association, and the American Culinary Federation.

Bruce Spivak, an American Culinary Federation certified executive chef and certified culinary educator, is a graduate of the Culinary Institute of America with more than 25 years' experience in fine dining establishments, hotels, and caterers. He earned his bachelor's in educationwhile teaching culinary arts at NY Institute of Technology for 13 years. He has provided food styling for several cookbooks as well as recipe and product development for Squibb Pharmaceuticals, Hi-tech Pharmacal Health Care Products Co., the North Shore University Hospital /L.I.J. Healthcare, and local school district food service programs.