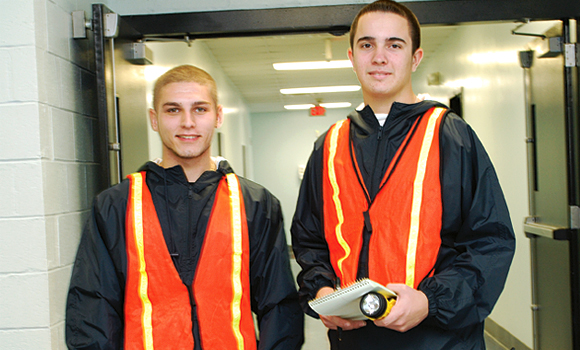 If you've thought about a career in law enforcement, this program will introduce you to many of the skills and laws police and security officers need to know. Appropriate investigative functions and techniques, patrol functions, forensics, security systems and emergency responses required for public/private security are explored.
Work Environment
Course Outline
Student Supplies
Personnel employed in the field of Criminal Justice may work for public or private institutions, e.g. local police departments, court systems, prisons, military police, store detectives, private security agencies, and private businesses. Technicians also work in computer/data processing jobs related to the industry.
Crime Scene Investigation
Introduction to the Court System
Patrol Functions
Introduction to Computers
Crisis Intervention/Emergency Response
CCTV
Access Control
Social and Economic Impact of Alcohol and Drug Abuse
Career Orientation: Job Seeking, Job Keeping Skills, Administration, Management
Intro. to NYS Laws
First Aid and CPR
Investigative Functions/Techniques
Code of Conduct – Public Relations
Development of Physical Skills
Private and Public Security
Communications
Current and Critical Issues
Principles of Defensive Driving
Surveillance Systems
Appropriate clothing for indoor and outdoor work
1. Pen
2. Watch
3. Memo or agenda book
CTE Endorsement
Students must successfully meet the academic and attendance criteria for a two-year Wilson Tech Certificate of Completion, be High School diploma eligible, and pass the following national certification exam: National Occupational Competency Testing Exam (NOCTI) – Criminal Justice – Law Enforcement.
About the instructor

Spencer D. Donaldson, a retired military field-grade officer and a retired NYC police detective, brings more than40 years of real-world experience to his classroom. He holds a bachelor's degree in criminal justice. He is a graduate of the US Academy of Military Science, and is a NYS licensed private investigator.

John F. McColgan, Jr., received his bachelor's degree from Northeastern University in law enforcement and a master's degree in special education from Dowling College. He has worked as a police officer in Massachusetts and a criminal investigator for the U.S. Naval Criminal Investigative Service.