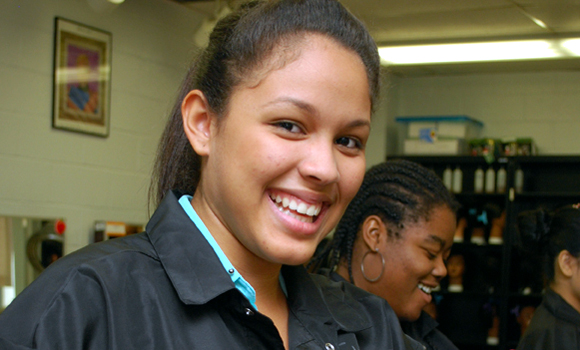 This program offers opportunities for you to learn about hair styling, coloring, perms and relaxants as well as make-up, manicures and facials. Practice your talents on mannequins and other students. As a second year student, participate in a Wilson Tech clinic. Earn hours toward your cosmetology license.
Work Environment
Course Outline
Student Supplies
The ability to deal one-on-one with clients, the acquisition of commencement level math, reading, writing, and communications skills, attention to personal appearance and hygiene, and the development of responsible attributes are essential for cosmetologists. All states require beauty salon operators to be licensed. Before applicants are eligible to take the New York State licensing examination, they must successfully complete this NYS approved 1000-hour cosmetology course.
Professionalism
Bacteriology
Safety/Decontamination
Infection Control
Scalp & Hair care
Haircutting
Wet Hair Styling
Thermal Hair Styling
Hair coloring
Artificial Hair Enhancements
Make-up
Skin care & disorders
Superfluous hair removal
Nail Care
Life Skills
Chemical Texture Services
Cells, Anatomy & Physiology
Light Therapy
Salon Business skills
Computer Imaging
Salesmanship
First-Year Students
1. Uniforms: Black cotton/polyester blend uniform pants. Smock Top – provided by Tech. White professional-style leather low heel, closed toe shoes with appropriate hose.
2. Cosmetology Tool Kit containing all necessary tools, equipment, and a mannequin holder.
Second-Year Students

1. Uniforms remain the same
2. Purchase additional senior kit
---
Licensing Requirements
All students successfully completing this program, (two year, 1000 hours), will be eligible to sit for the New York State Licensing Examination in Cosmetology. Students may take cosmetology for one year, but are ineligible to sit for the NYS licensing exam. Seniors may elect to further their education/hours with an adult Wilson Tech cosmetology class the following year.
CTE Endorsement
Students must successfully meet the academic and attendance criteria for a two-year Wilson Tech Certificate of Completion, be High School diploma eligible, and pass the following national certification exam: National Occupational Competency Testing Exam (NOCTI) – Cosmetology.
About the Instructors

Karen Milian-Pumarejo graduated from NY Institute of Technology with a bachelor's in occupational education. She is a certified work/ study coordinator. Since 1998, she has been a NYS cosmetology examiner.

Audra Moore, a graduate of the BOCES cosmetology program, has more than 10 years of experience specializing in ethnic hair care. She holds certification from Professional Hair Designers and Mizoni in hair and product knowledge in hair chemistry as well as an associate's in occupational education from NY Institute of Technology.

Alyson Ponzetti is a graduate of Wilson Tech's cosmetology program. She is a licensed cosmetologist with more than 20 years of experience in salons where she specialized in color. She is currently a NYS cosmetology examiner and a member of the LI Cosmetology Teachers Guild.

Ellen Rubenstein is a licensed cosmetologist who has experience in working in multiple salons. She holds a degree in Occupational Education from NYIT. Her combination of work and teaching experience are an excellent background to provide training to aspiring cosmetologists. In addition to working with secondary students, Ms. Rubenstein is an adult instructor in the Western Suffolk BOCES adult program. She is active in the Long Island Cosmetology Guild and her students frequently win awards in Guild competitions.