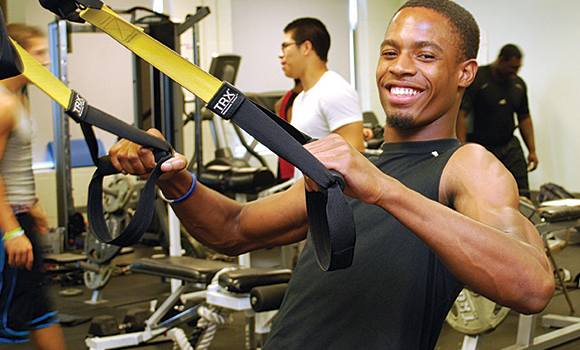 Develop knowledge in anatomy, physiology, weight and strength training. Go into business for yourself, work in health clubs or rehab centers or find employment with sports teams.
Work Environment
Course Outline
Student Supplies
Personal Trainers typically work in a variety of settings including gyms, health clubs, hospitals, universities, schools, yoga and Pilates studios, wellness centers, sports performance centers, resorts and clients' homes. Personal Trainers work with clients on a one-to-one basis or in small groups. The environment in which a Personal Trainer works tends to be indoors. Many jobs are part time and fitness workers often supplement their income by working at several different facilities or clients' homes. Night and weekend hours are common.
Aerobic/ Anaerobic Training
Anatomy
CPR/AED
Health and Fitness
Health Screening and Evaluation
Nutrition/ Weight Management
Exercise Physiology
Program Design
Proper Training Techniques
Safety
Special Populations
Starting and Running a Personal Training Business
Supplements
Helpful Preparatory Courses
Living Environment
Health
Physical Education
1. Gym Bag
2. Sneakers
3. Athletic work-out pants or conservative shorts
4. Polyester t-shirt or conservative plain shirt
---
CTE Endorsement
Students must successfully meet the academic and attendance criteria for a two-year Wilson Tech Certificate of Completion, be High School diploma eligible, and pass the following national certification exam: National Council on Strength and Fitness – Pre-Professional Personal Trainer.
About the instructor

Adam Lievre is certified as a strength and conditioning specialist from the National Strength and Conditioning Association. He earned a bachelor's degree in physical education from Salisbury University (MD) and a master's degree from Stony Brook. He is also the varsity basketball coach at Shoreham Wading River High School and a personal trainer at the Shoreham Wading River Community Fitness Center.