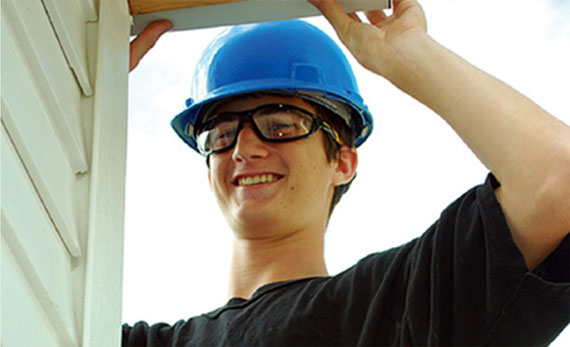 Build a structure from the frame and roof to the cabinets and counters. Work from plans and specifications to build new buildings and remodel existing ones. Students will frame and complete the exterior of a structure. They will also complete the interior and then construct and install cabinets and counters. Tech's new curriculum provides instruction on the installation of solar panels and wind turbines.
Work Environment
Course Outline
Student Supplies
Carpenters work outdoors as well as indoors and should not be afraid of heights. Safety rules must be followed outdoors and in the shop. Hand tools and power tools are used. Advancement will require additional training and education beyond high school and/or experience.
Shop and Field Safety Procedure
Basic Hand Tools: Care and Maintenance
Power Tools: Care and Maintenance
Interpretation of Blueprints and Drawings
Green Technology
Skills in Accurate Workmanship
House Framing
Roofing
Sheetrock/Spackle
Siding
Stairs
Railing
Flooring
Cabinet Assembly & Installation
Moldings
Door Installation
Suspended Ceilings
Metal framing
Interior Finish
1. Work shirt, jeans/carpenter's pants (no shorts)
2. Hard-soled work boots
3. 3 pencils, 3 carpenter pencils, loose leaf paper
4. Tape measure (25′ min., 1″ wide)
5. Carpenter's tool belt
6. Safety goggles or glasses
CTE Endorsement
Students must successfully meet the academic and attendance criteria for a two-year Wilson Tech Certificate of Completion, be High School diploma eligible, and pass the following national certification exam: National Center for Construction and Education Research (NCCER) Carpentry Exam.
About the instructor

Scott Bernstein is a NYS-certified instructor who holds a Bachelor of Science in occupational teacher education from NY Institute of Technology, and is also NCCER-certified. With a background in mechanical engineering, he has worked as a carpenter for several high-end residential remodeling firms on Long Island and is well-versed in all phases of construction.