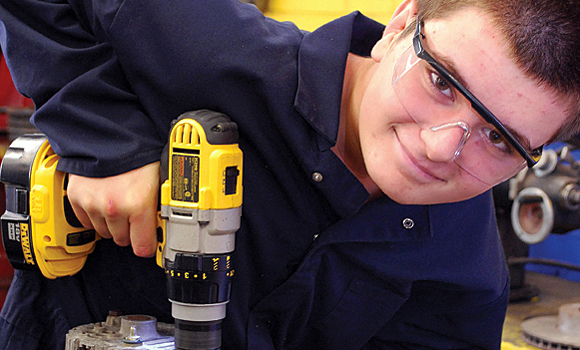 Are you always thinking and talking about cars? Make repairs to engines, transmissions, chassis and suspension systems of various automobiles. Take the guesswork out of auto repairs and use sophisticated electronic and hydraulic test equipment to pinpoint that engine knock or whine.
---
AYES Program
The Wilson Tech Automotive Technology program has met the requirements to participate in the Automotive Youth Educational Systems (AYES) program. In conjunction with local dealerships, students can participate in job shadowing, mentoring, and paid work study experience. Through the AYES program many of our students, both from the Northport and Dix Hills campuses are employed at dealerships such as: Huntington Honda, Habberstad BMW, Huntington Audi, and Babylon Honda to name a few.
Work Environment
Course Outline
Student Supplies
The auto technician may work in service stations, small repair shops or new car dealerships to maintain, troubleshoot and repair the various automotive systems. The number of employees may vary from two to 20. The work week may vary from 40–50 hours. The work is primarily indoors; however, there is a percentage of on-the-road work.

ASE/NATEF Certified Modules
Lubrication
Exhaust System Repair
Front-End
Engine Overhaul
Alternator Service
Electronic Test Equipment
Tire Repair
Brakes
Alignment and Repairs
Engine Tune-up
Clutch Repairs
Transmission Service/Repair
Air-Conditioning Service
Fuel Injection
Computerized Controls
1. Dark blue work shirt/work pants
2. Safety work shoes (hard-soled)
3. Safety goggles
---
CTE Endorsement
Students must successfully meet the academic and attendance criteria for a two-year Wilson Tech Certificate of Completion, be High School diploma eligible, and pass the following national certification exam: Automobile Service Excellence Certification.
About the instructor

Christopher Adikes is a Wilson Tech graduate who continued his technical education at Denver Automotive and then at NY Institute of Technology. He worked in the automotive field for 15 years before returning to Tech more than 10 years ago as an instructor.

Brian Harrison is a Wilson Tech graduate who started in the automotive business with his father and brother. After earning his associate's degree from Columbia Greene Community College through the Ford Asset Program, he earned his bachelor's degree from NY Institute of Technology. He holds a Master ASE certification, and is an adjunct automotive instructor at Suffolk Community College.

Ralph Savarese is a Wilson Tech graduate and graduate of SUNY Farmingdale in Auto Engineering with 30 years' experience as an ASE Certified Master Auto, Truck, Undercar and Maintenance Technician. He is a "Lemon Law" arbitrator and evaluation leader for NATEF and AYES facilitator who has worked as an Auto Technician for several local auto dealerships and repair shops. A Cadillac Olds Master Technician, Auto Technology has always been his passion and has been part of his family his whole life. He earned his teaching certification from NYIT and derives great pleasure in teaching young adults the trade of Auto Technology.