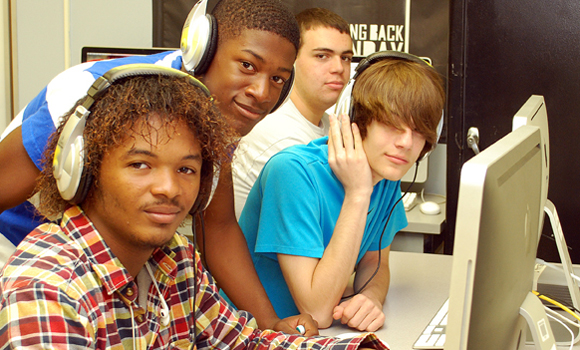 If you love music, you will have the opportunity to create or mix your own professional sounds. Practice using a sound board and mix music as you are introduced to the legal issues in broadcasting. You'll operate the latest digital audio options on the most up-to-date equipment.
Work Environment
Course Outline
Student Supplies
Audio technicians and producers generally work indoors in pleasant surroundings. However, projects outside the studio would subject audio technicians to all types of weather conditions. Audio technicians may be required to set up heavy equipment. Producers may be under pressure to meet broadcasting deadlines and may need to work evening, weekend and holiday hours.

Apple Soundtrack recording
Digital recorders
Multi-track audio recording
Electronic instrumentation, operation, and composition
Audio-mixing consoles
Microphone Techniques
Pro Tools recording
Music arrangement
Live sound re-enforcement
Multi-track editing systems
Music history
Audio for Film/Video
Apple Logic Pro recording
Room Acoustics and Design
Channel Strip Plug-ins
Mastering and Distribution
Helpful Preparatory Courses
Algebra
Science (Physical Science)
Computer Applications
1. 16 GB Flash drives
2. Wilson Tech t-shirt for location and field trips
CTE Endorsement
Students must successfully meet the academic and attendance criteria for a two-year Wilson Tech Certificate of Completion, be High School diploma eligible, and pass the following national certification exam: SkillsUSA Workforce Ready System – Audio Production.
About the instructor

Michael O'Toole has worked in many facets of the radio, television and film industries with credits as a Chyron graphics controller, RED Camera Operator and the director of many live events. He has worked as an audio post production mixer for several feature films and a mastering engineer for many local bands and artists. Mr. O'Toole expanded his skill set by working on the TV55 news broadcasts and is currently the Chief Engineer at GovsRadio.  He holds a bachelor's degree in audio/video/film from Hofstra University and a master's degree from Dowling College in childhood education. In addition, he is certified in Logic Pro X and as an Avid Pro Tools Operator. Mr. O'Toole is local advisor for SkillsUSA and is the Area VI Advisor Trustee.