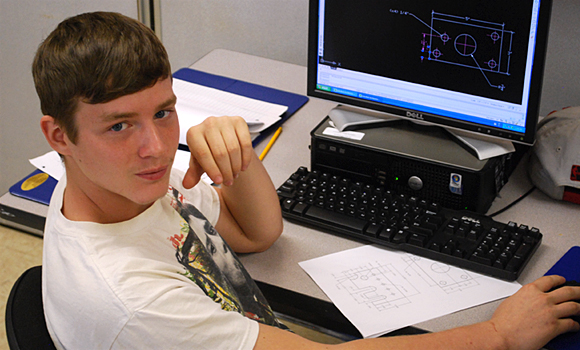 Use traditional drawing tools and drafting instruments as well as sophisticated computer programs to design and prepare architectural and interior design renderings, models and site plans. Translate ideas into specific plans that a builder could use. Great training for future engineers, architects, interior designers and draftspersons. Students learn to use AutoCad software.
Work Environment
Course Outline
Student Supplies
Architects, interior designers and their associates prepare clear and accurate working plans and detailed drawings from rough sketches. Those associates who specialize in AutoCAD are employed in a variety of firms including architectural, engineering, manufacturing, electronic, aeronautical and landscape companies as well as municipalities and government agencies. They work closely with engineers and other professionals in comfortable, well-lit environments. Travel to job sites may be required to provide accurate measurements for drafting, as well as inspections when construction occurs.
Careers in Architecture
Equipment & Supplies
Construction Drawings
Presentation Drawings
Residential Design
Commercial Design
Site Planning
Model Making
Computer Aided Drafting
Renewable Green Technology Building Systems
Revit
No supplies need to be purchased for this course.
CTE Endorsement
Students must successfully meet the academic and attendance criteria for a two-year Wilson Tech Certificate of Completion, be High School diploma eligible, and pass the following national certification exam: Nat'l Occupational Competency Testing Exam (NOCTI) – Architectural Drafting.
About the instructor

Isabella Mancini brings 15 years of experience preparing construction documentation using AutoCAD, the software used at Tech. She has a BFA in environmental design from Parsons School of Design and a bachelor's of architecture from Pratt Institute. She has worked on international and high-end residential projects at several prestigious firms, including Skidmore Owings & Merrill where she worked on One World Trade Center andJP Morgan Chase Interior Renovations. She also designed the "Faith Scroll," a place for pilgrims to leave their personal intentions for the Vatican's "Year of Faith" initiative in Italy.