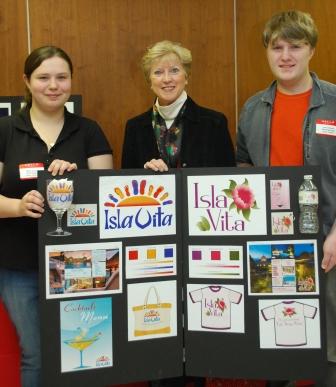 Once again, two Tech students in the Advertising/Graphics Design program captured top honors in the annual Huntington Chamber of Commerce's Business Leadership Competition. In above left photo, Melanie Wolff (l.) of W. Babylon and Sydnie Wittenberg (r.) of Harborfields won first place and in above right photo, Tiffany Gortakowski (l.) of Smithtown West and Connor Nachemin (r.) of Babylon won a merit award for their imaginative logos, professional branding concepts, and public speakingabilities. Linda Mitchell (c.) coordinates the competition on behalf of the Chamber.
Tech teams competed against more than 384 students from 21 high schools in Nassau and Suffolk to design a brand identity for "Caribbean Resort," a fictitious vacation spot.
The creative students had to present their concepts and designs for business cards, logos, and signage for this "new" business and then answer questions about their concepts. Students were ranked on their creativity, design skills and presentation skills.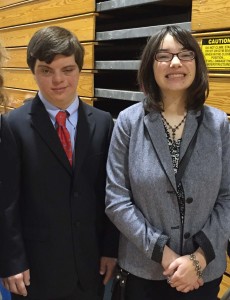 While the artists were explaining their design choices, Brendan Higgins (right photo, l.) of Huntington and Jessica Bauer (right photo, r.) of Deer Park, both from Tech's Huntington campus, competed in the Job Interview category where they received Honorable Mention.
The students were honored at a reception at LaunchPad in Huntington.