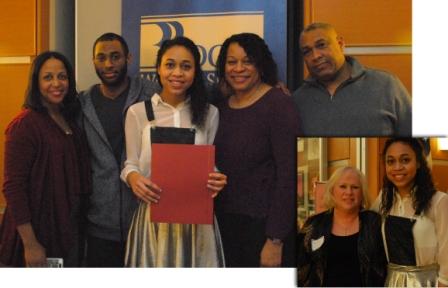 Lauren Scott-Mohammed celebrates winning the annual $500 PTA scholarship with (l. to r.) her aunt Cynthia Fletcher, her brother Michael Scott-Mohammed, her mother Stephane Mohammed, and family friend Perry Pettus.
Inset: Kathy Vento, Suffolk Region PTA Director, recognizes Lauren for her accomplishments.
Lauren Scott-Mohammed, a John Glenn High School senior in Wilson Tech's Fashion Merchandising/Design program, was recently awarded a $500 scholarship from Suffolk Region PTA. Kathy Vento, Suffolk Region PTA Director, presented the award at the annual PTA Night dinner sponsored by Western Suffolk BOCES.
The skills that she has learned during her two years at Tech, Lauren says, have given her the confidence to double major in design and merchandising at SUNY Oneonta in the fall. In the future Lauren wants to have her own boutique where she can sell the clothes that she has designed.
"Learning to sew has allowed me to transform my unique ideas into real garments—turning a dream into reality. Tech has made my life's wishes attainable," wrote Lauren in her scholarship application.
Her English teacher cited her tremendous work ethic, curious mind, passion for learning and creative soul. "It's her kindness and industrious nature that make her even worthier for this scholarship," he continued. "It is because of Tech and her appreciation for it that she is one of the lucky few who will graduate high school with a clear goal of her future," he concluded.