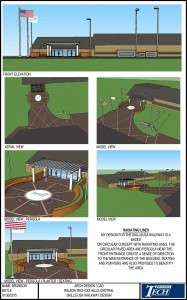 The new entrance to the National Leadership and Skills Center in Leesburg, VA, the headquarters for SkillsUSA, was inspired by a walkway plan that Brandon Boyle, a senior in Wilson Tech's Architectural Design/CAD program, designed. The North Babylon student's entry was selected from 32 entries in a nationwide competition.
"His design was exceptional and we are so pleased to incorporate many of his elements to create the new, celebratory walkway for NLSC," noted Kelly Persons, director of the NLSC's Office of Business Partnerships and Development.
A committee, led by architects and a SkillsUSA alumnus from The Beck Group in Dallas, TX, volunteered to review all student design entries and provided their professional expertise to craft a final walkway plan, inspired by Brandon's design that was both affordable and doable within the time constraints of the project.
SkillsUSA, a national student organization to improve the quality of America's skilled workforce, will provide a $2,000 travel stipend for Brandon and a SkillsUSA advisor to attend the ribbon-cutting of the new walkway during the organization's 50th birthday celebration in Leesburg on May 8.
Brandon will be publicly recognized at the event for his creativity which will leave a lasting legacy on the national SkillsUSA program. Brandon will attend the New York Institute of Technology in the fall to study architecture.