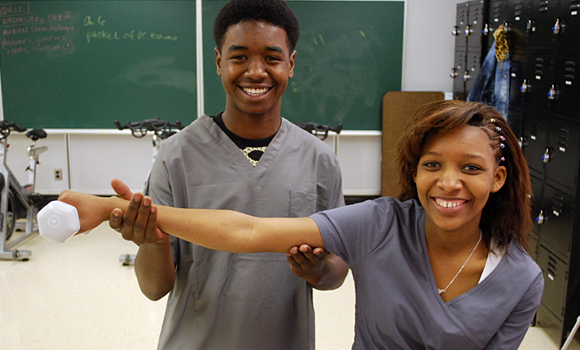 Physical Therapy Aides assist physical therapists and physical therapy assistants to set up and maintain treatment areas, organize equipment and assist patients to prepare for treatment in recovering from injuries and improving mobility.
Work Environment
Course Outline
Student Supplies
Physical Therapy Aides require a moderate amount of strength because of the physical demands of the position: Lifting, kneeling, stooping, bending and standing for long periods of time are all part of the day. The hours and days physical therapy aides work vary according to the facility they work in allowing some to work in part time shifts. Many offices have evening and weekend hours to coincide with patient schedules.
History of Physical Therapy
Body Mechanics
Set up and maintain treatment area
Workplace Safety
Anatomy and Physiology
Communication Skills
Assisting with Ambulation and Gait Training
Range of Motion
Transferring and Transporting of Patients
Infection Control
Law and Ethics
Customer Service
Common physical disorders and treatment
Therapy treatments and exercise
Mobility training
CPR
Physical Agents and Modalities
Vital Signs
Growth & Development
Helpful Preparatory Courses
Biology
Medical Terminology
1. V-neck top
2. Draw string pants
3. White rubber soled leather shoes or sneakers
4. White crew socks or stockings
5. White crew neck tee shirt
6. Name tag
*Check with teacher for scrubs/uniform specifications and supplies.
CTE Endorsement
Students must successfully meet the academic and attendance criteria for a two-year Wilson Tech Certificate of Completion, be High School diploma eligible, and pass the following national certification exam: NOCTI – Health Assisting.
About the instructor

Megan Pettit has a master's degree in physical therapy from Arcadia University (PA). She is a licensed physical therapist who has worked for more than 14 years in the clinical setting as a staff and supervising therapist. She has experience treating patients with neurological, musculoskeletal and orthopedic conditions, including the pediatric population.