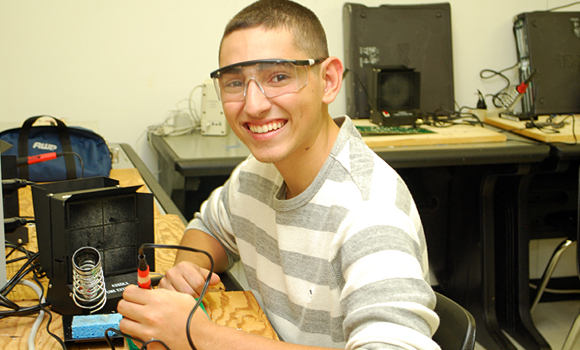 Do you like tinkering with electronic gadgets? Come study the basic theory of electronics and how to apply the theory as you analyze and then construct circuits. After the course introduction to robotic concepts, students will build robotic devices. Students who meet the academic and attendance criteria in Electronics/Robotics/Computer Repair may enroll in Computer Networking the 2nd year.
Work Environment
Course Outline
Student Supplies
Electronic technicians experiments, design, fabricate, and test a variety of circuits utilizing electronic instruments. Computer Repair Technicians troubleshoot and repair computer equipment at homes, industrial sites or offices.
Game Console Repair
Introductory Electronics
Digital Electronics Concepts
Computer Software Application
Network Cabling
Troubleshooting and Diagnosis
Computer Components/ Installation
Computer Peripherals
Telecommunication
Introduction to Robotics
Routers and Switching Devices
Introduction to Computer Networks
Test Equipment
Power Supplies
Solid State Circuits
Transmitters/ Receivers
Audio Amplification
Digital Concepts and Circuits
Digital Test Equipment
Computer Hardware Upgrades
Computer Software
Solar Panel Electronic Systems
Home Theatre Design
Helpful Preparatory Courses
Math
Science

First-Year Students
1. Scientific calculator
2. Small hand-tools
3. ESD wrist strap
---
About the instructor

Nikko Santiago is a NYS certified teacher in Career and Technical Education. He received his Bachelor's degree in Industrial Facility Management and Mechanical Engineering Technology from Farmingdale State College. His industry experience includes electronics repair and mechanical design. He holds NIMS machining certifications in Measurements, Materials and Safety as well as Job Planning, Benchmark and Layout.