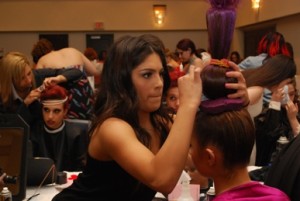 While anxious parents and friends waited, more than 100 cosmetology students brushed, curled, braided and sprayed their model's hair into exotic styles. This annual hairstyling competition is sponsored by the Long Island Cosmetology Teachers' Guild, a group of local teachers who meet monthly to share ideas, skills and educational materials related to the cosmetology field.
Wilson Tech cosmetology students, both high school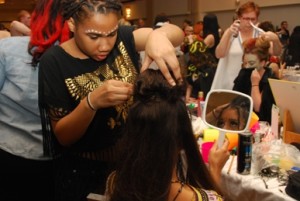 students and adults, won 17 of the 36 medals that were awarded in six categories: Senior Styling, Junior Styling, Color, Mannequin Styling, Junior Fantasy, and Senior Fantasy. See the competitors at work! Diane Kuhn, a retired cosmetology teacher, has also posted her beautiful photos of the competition. Here are the names and home schools of the winning students.
| | | | |
| --- | --- | --- | --- |
| CATEGORY | PLACE | NAME/SCHOOL DISTRICT | MODEL/SCHOOL DISTRICT |
| Mannequin | 6th | Rosalie Evans/Elwood | |
| | 5th | Mayra Santos/Adult | |
| | 4th | Nancy Cordero/S. Huntington | |
| | 3rd | Kallie Conover/Brennan | |
| | 1st | Yasmin Garcia/S. Huntington | |
| | | | |
| Color | 6th | Carissa Graziosa/W. Babylon | Erika Bernard/W. Babylon |
| | 1st | Ariana Ardizzone/N. Babylon | Shaylyn Murphy/W. Babylon |
| | | | |
| Senior Style | 4th | AnnMarie Gerdon/Copiague | Morgan Monroe/Brennan |
| | 3rd | Ashley Pratt/Adult | Vanessa Rodriguez/Adult |
| | 1st | Nicole Donofrio/Smithtown East | Ana Quinn/Northport |
| | | | |
| Junior Style | 2nd | Erica Zimmerman/Adult | Jennifer Rigrod/Adult |
| | | | |
| Junior Fantasy | 6th | Ashley Ingordino/Lindenhurst | Adriana Renick/Lindenhurst |
| | 5th | Emilie Padnick/Northport | Julianna Mori/Commack |
| | 3rd | Alanah Kleeman/Smithtown East | Emily Pue/Smithtown East |
| | | | |
| Senior Fantasy | 6th | Monica Coronna/Adult | Mollie Wood/Adult |
| | 5th | Jon-Aisia Crosby/Elwood | Jillian Pabon/Harborfields |
| | 2nd | Karina Alegre/ Deer Park | Kimberly Villarreal/W. Babylon |