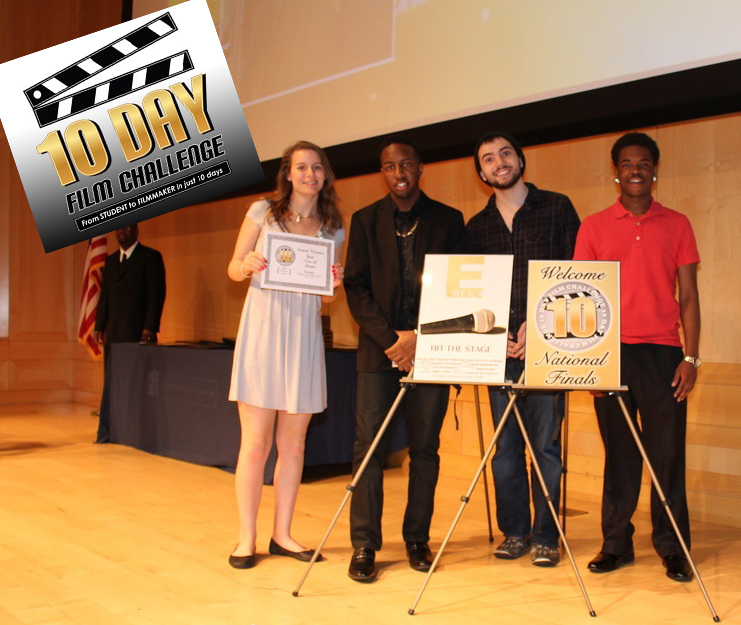 The Wilson Tech crew that earned Best Music in the national Ten Day Film Challenge for their film "Eureka" included (l. to r.) Rachel Antonison of Harborfields, director, writer, actor and editor; Umari Barnaman of Amityville, composer and actor; Justin Yankwitt of Commack, announcer and camera assist; and James Lewis of Copiague, actor and prop assistant.
Proud and nervous were just two of the many emotions that students from across the U.S. had as they awaited the announcement of the grand prize winners at the national awards ceremony for the Ten Day Film Challenge at the Constitution Center in Philadelphia on June 7. Wilson Tech students were wildly ecstatic when "Eureka" was announced as the first place winner for Best Music.
"All of the 15 films in this final round of competition were nothing short of spectacular!" said Steven Stankowski, Tech's instructor for Digital Film/Video Production. "We were thrilled to be able to attend the awards ceremony when these films were screened."
Just weeks before, the Ten Day Film Challenge had brought out the cooperative spirit and talent of Tech students in Digital Film/Video Production as they randomly picked a genre out of a hat and then wrote, shot and edited a 3-5 minute short film in just 10 classroom sessions. No work could be done outside the class.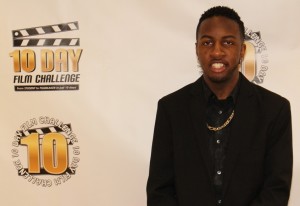 Umari Barnaman of Amityville composed the music that helped his team's film "Eureka" earn Best Video in the national Ten Day Film Challenge.
Five of the six groups finished their films on time and qualified to compete in the semi-final round. Out of the 350 films (from 15 states by 3500 students in 106 schools) that reached the semi-finals, four of the Tech films placed in the top three. "Eureka" had earned first place in the semi-finals in the Music Video category as well as third place Best Overall film in show, top three in Best Performance category and top three in Best Use of Sound category and, therefore, earned a high enough score to advance to the national competition.
Watch "Eureka" to see and hear the talented students at Wilson Tech! Read more about the Ten Day Film Challenge.