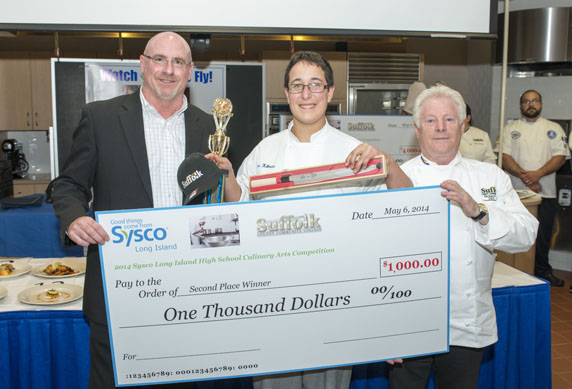 Mathew Kollmeier (c.) of Northport holds the trophy and the Japanese chef's knife that he won along with the $1,000 Sysco scholarship from Todd Romano (l.), regional sales manager for SYSCO Long Island, LLC, and Richard Freilich (r.), program director and instructor Suffolk County Community College Culinary Arts Center.
With the confidence of a seasoned chef, Mathew Kollmeier of Northport, turned a mystery basket of ingredients into a $1,000
scholarship at the SYSCO Long Island High School Culinary Arts Competition. This senior in Wilson Tech's Culinary Arts program competed against students from 13 high schools on Long Island at the Suffolk County Community College's Culinary Arts Center in Riverhead.
Mathew had 90 minutes to prepare two identical plates using the ingredients he found in his basket—a bone-in chicken, sweet potatoes, green squash and sundried tomatoes. His winning dinner of sautéed breast of chicken with rosemary with a beurre blanc sauce, sautéed vegetables and mashed sweet potatoes gave him a second place finish and the scholarship.