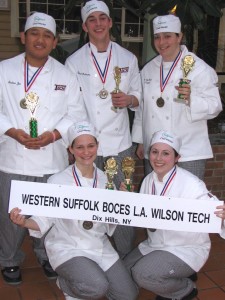 Five students in Wilson Tech's Culinary Arts program recently won scholarships for taking 3rd place in the ProStart Cooking Competition sponsored by the New York State Restaurant Association. At the Albany contest, students had to prepare a three-course meal in 60 minutes using at least two cooking techniques but only two burners.
The students, (standing, l. to r.) Andrew Jun of Huntington, Brian Loiacono of South Huntington, Ariel DePaolo of Commack and (front. l. to r.) Shannon Volz and Ashley Chmela of Lindenhurst, were selected based on their cooking skills, professional attitude, and interest in pursuing post-secondary education.
They are now eligible for four-year scholarships ranging from $500 to $6,000 per year at schools ranging from Johnson and Wales University to SUNY Cobleskill to the Culinary Institute of America. To capture the bronze medal, they prepared Long Island crab salad with a grainy mustard vinaigrette and a radish and scallion salad.
For more information about Visitors' Days for sophomores and juniors interested in attending Tech, call your guidance counselor at your home high school or call Tech at 631-667-6000.