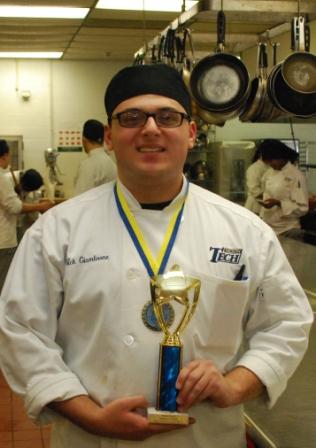 Nick Giambrone, a senior from Lindenhurst in Tech's Culinary Arts program, is well on his way to a college education and a semester in Italy. He recently won a $36,000 scholarship, including the opportunity to study abroad, after taking third place in the seventh annual America's Best High School Chef competition sponsored by Monroe College in New Rochelle.
The competition included three rounds where he had to demonstrate mastery of a range of culinary techniques including demonstrating the proper use of a knife to julienne and tourne two potatoes, dice an onion and supreme an orange within 30 minutes and then creating an impressive salad with a red wine vinaigrette dressing. Based on his success in those two rounds, he advanced to the finals with five other chefs. They were each given a mystery basket of ingredients and asked to prepare a meal within one hour. Nick prepared a chicken breast over spinach in a white wine and cream tomato sauce.
Nick will soon decide if he will accept Monroe College's scholarship package.