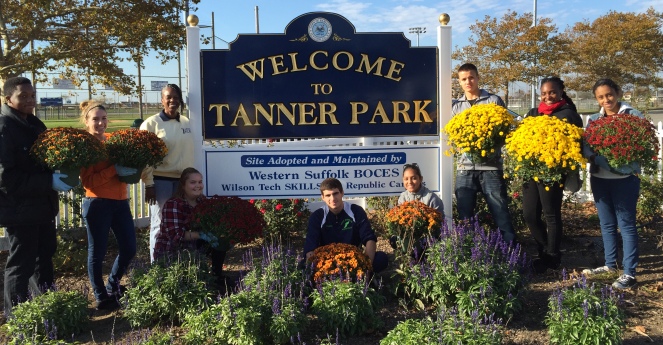 SkillsUSA members who participated in the Tanner Park clean-up from Wilson Tech's Republic Airport campus are (standing, l. to r.) Jahad Hoyte, Half Hollow Hills HS West; Marissa Maggio, N. Babylon; Jacqueline Gordon, SkillsUSA Advisor Republic Campus; Joshua Araujo, Deer Park; Renique Smith, Amityville; and Jessenia Algarin, Amityville and (kneeling l. ro r.)Amanda Aurora, Deer Park; Angelo Cuozzo, W. Babylon; and Michelle Romero, Deer Park.
Tanner Park in Copiague received its annual fall cleaning when students (l. to r.) from Wilson Tech's Republic Airport campus arrived on Oct. 22. Both morning and afternoon students in the SkillsUSA service organization removed garbage and planted fall flowers at the park's entrance.
Students liked the idea of doing something for the community and enjoyed being one with nature on a crisp fall day. They will return in the spring for another clean-up.
Wilson Tech offers 40 programs for high school juniors and seniors to pursue a career and technical education. SkillsUSA is a national student organization that offers leadership, citizenship and character development programs to complement the skills training that vocational students receive in their programs at Wilson Tech.