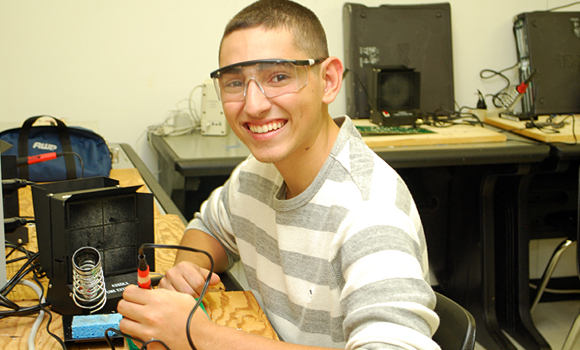 Come find out how the electronic world is so interconnected! Learn operating systems and how to network computers as you test, troubleshoot, and actually install computer equipment and networks. Students who successfully complete Electronics/Robotics/Computer Repair during their first year at Tech will gain the necessary foundation for this class.
Work Environment
Course Outline
Student Supplies
This is a service-related job in which technicians troubleshoot, install and configure network devices in homes, industrial sites or offices. A workweek will vary from 37 hours to 40 hours and is generally performed during a daytime shift. Technicians may be required to travel.
Introduction to Networking
Networking Fundamentals
Networking Media
Cabling LAN and WAN
IP Addressing
Routing Fundamentals and Subnetting
Routing and Protocols
Access Control Lists
Switching Concepts
Switches
Switches Configuration
Virtual LANS
VLAN Trunking Protocol
Scaling IP Addresses
WAN Technologies
VOIP – Voice Over IP
Introduction to Network Administration
Network+ Certification
No specific supplies are required.
---
CTE Endorsement
Students must meet the academic and attendance criteria for a two-year Wilson Tech Certificate of Completion, be High School diploma eligible, and pass the national Certification exam: CompTIA Networking & Certification Exam.
About the instructor

Ernest Lewis has been a teacher at Wilson Tech for more than 25 years. He received an associate's degree in electronic engineering from the Technical Career Institute and possesses certificates in CCMP, Net +, A+, and Network+. He acquired experience in electronics working at Giltronics.