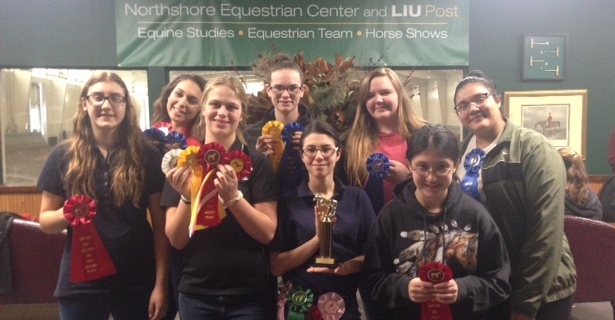 Wilson Tech students captured the top two team awards in the Quiz Bowl competition at the annual Horse Show hosted by Barry Tech at the Northshore Equestrian Center.
1st Place in Quiz Bowl went to Kaitlin Reyes, Lauren Kramer, Guadalupe Sanchez, and Kelsey Lozier.
2nd Place in Quiz Bowl went to Autumn Farmer, Angelica Novok, Janina Garbarino, and Anna Romanelli.
In addition to the stellar quiz bowl results, Kaitlyn Reyes won 1st place in the Horse Judging competition, Lauren Kramer won 3rd place in the Equine Bridling class and Autumn Farmer won 3rd place in Equine Identification. Their hard work definitely paid off!