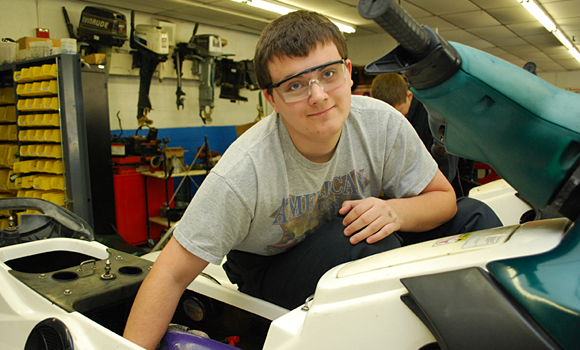 Servicing small engines from boats to motorcycles is a satisfying occupation. A qualified Marine Technician knows about servicing boat engines and managing marinas. Small engine repair will also be incorporated into the program. Great skills to have for many fields.
Work Environment
Course Outline
Student Supplies
Marine Technicians are generally employed in outside boatyards, marinas, engine repair facilities, as well as on fleet boats. Those seeking employment working with small engines are generally employed in small shops and work both indoors and outdoors.

Boat Yard Skills
Transport and Handling
Fuel Ignition and Drive Systems
Inboard Technology
Outboard Technology
Marine Engine and Service Fundamentals
Outboard and Inboard Engines
Safety and Navigation
Fiberglass Boat Repair
Boat Trailer Service
Electric and Auxiliary Systems
Servicing, Rebuilding, and Maintenance of Small Engines
Landscape Equipment Maintenance
1. Long or short-sleeved navy coverall
2. Hard-soled, safety work shoes
3. Safety glasses or goggles will be supplied for use in class
---
CTE Endorsement
Students must successfully meet the academic and attendance criteria for a two-year Wilson Tech Certificate of Completion, be High School diploma eligible, and pass the following national certification exam: National Occupational Competency Testing Institute (NOCTI) – Small Engine Technology Exam.
About the instructor

Mark Bischoff is active in many aspects of the marine industry on Long Island and holds membership in the NY Marine Trades Association. He is certified in Outdoor Power Equipment Technology.